Van Vicker is a Ghanaian actor, with a leading role in Nollywood movies.


The award-winning actor and director has more than 50 movie credits to his name.
This is his biography.
Van Vicker Family
Van Vicker, whose real name is Joseph van Vicker, was born in Ghana on 1 August.

The son of a Dutch father and a Ghanaian/Liberian mother, Van Vicker has one sibling - a sister named Phylicia Anderson.
His father died when he was six-years-old, and he was raised by his mother, who opened his eyes to the world.
He often refers to himself as a global citizen because of all the travelling he experienced as a child with his mother.
Van Vicker Career and Business Ventures
He started his career as a radio presenter in 1999, working for two of Ghana's most exciting stations – Groover and Vibe.
Then in 2004, Van Vicker got his break to act in the 10 episode series Suncity.
Not long thereafter, he had his first movie role, in a supporting role opposite his school friend, Majid Michel. The movie was called Divine Love.
It wasn't until he was cast as Rag in Beyonce: The President's Daughter that everyone knew who Van Vicker is.
This role cemented his status as a sex symbol and he became a household name in Ghana and Nigeria's Nollywood.




Almost always cast in the romantic male lead of a movie, Van Vicker has starred in other Nollywood movies including My Soul Mate, Heart of Fire, The Joy of a Prince, Gambling with Marriage and The Return of Beyonce.
With his acting career cemented for more than a decade, Van Vicker saw it as the perfect time to expand his portfolio with a production house.
It's called Sky + Orange Productions, and since 2008, Van Vicker has released five movies through the company, including Joni Waka, in which he stars and directs.
The other movies Van Vicker released as a director through his production house include
Friday
Night
,
Raj
,
The
Hands
of
Time
and
LOST
.
His recent work has received nothing, but great reviews from fans all across Ghana. Released towards, the end of 2019, Van Vicker acts as a bod boy in a movie called
AMA.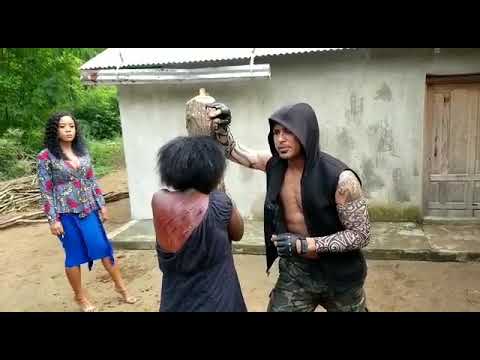 Throughout his career, Van Vicker has collaborated with some of Nollywood's biggest stars and A-listers including Jackie Aygemang, Nadia Buari, Majid Michel, Genevieve Nnaji, Ini Edo, Kate Henshaw-Nuttal and Yvonne Nelson.
Van Vicker The Philanthropist
Van Vicker continues to give back to the industry that he loves so much and that turned him into a household name.


He launched the Van Vicker Foundation which supports people who want to enter the entertainment industry as actors, by providing them with the necessary skills.
And in Liberia, Van Vicker opened his own arts school in 2018 – the Van Vicker School of Arts. More than 25 children enrolled into the skill when it opened.
Through this schooling programme , he hopes to educate and provide practical experience to the learners, so they can get experience in film and the performing arts.
And this was also his way of giving back to a country that means so much to him and his family; and also a country where he sees so much potential for TV and film making.
Van Vicker Awards
As the A-list Nollywood actor that he is, Van Vicker's glittering career has been awarded with gold – for both acting and directing, in Africa, the Caribbean and in the United States of America.
He has won Best Male Actor Awards at the: Ghana Movie Awards, ACRAG Awards, Nollywood Academy Films Critics' Awards, Papyrus Magazine Screen Actors Awards, Afro-Hollywood Awards, Pan African Film Festival Awards, Nafca, KumaWood Awards and the Ghana Entertainment Awards.
In the Caribbean, he won Best African Caribbean Actor and Best Actor African American; and the Pan African Creative Actor.
In 2012, after the success of a movie he directed and acted in Joni Waka, Van Vicker's talent and keen eye was awarded with NAFCA awards for Best Actor and Best Director.

And in 2019, he was honoured with a Golden Movie Award Walk of Fame.
Van Vicker Marriage
As with all romantic movies, fans love when on-screen couples take their romance into the real world. And this is what so many hopes for with his co-star Nadia Buari – but it was all rumours. Van Vicker and Nadia have never been romantically involved.
The lucky lady who fell for Van Vicker's charm is Adjoa, a Human Resources Manager.
The couple dated for seven years before walking down the aisle and saying their I Do's in front of family and friends as witnesses, in 2003.
They call a luxury mansion in Ghana home, where they live with their three children, Junio Joseph, Jeto and Julian.


Van Vicker Controversy
Since 2010, rumours have been swirling of Van Vicker's death. And he finds it amusing, always confused as to why people are always believing the rumours.
The actor has had to make public statements several times to denounce these rumours, telling his fans they should just ignore the news if they hear it.

As if that was not enough, in 2016, the actor was accused of having an affair with his manager, Clarice Ford-Kulah, by the manager's husband Bartum Kulah. The two were accussed of travelling together to places such as Ireland and the United States of America. Clarice's husband, Bartum, even said that Clarice seemed not give much attention to their children any more as the only thing she seemed interested in was being with Van Vicker.

However, Clarice came out to speak on the matter where she refuted the claims that were being postulated against Vicker. She had this to say in a press statement made available to GhanaWeb.com,


"In response to the recent rumors trending on the internet concerning Van Vicker and me, none of it is true. Neither Van nor I would do such a thing. We both have families that we love and care about dearly. Van and I have worked together professionally and as a family for over five years and have never encountered such nonsense accusations. My husband has security issues due to an accident that has completely interrupted his life. He has been harassing all of my male friends, including pastors, ministers, and deacons for years and I chose to ignore."
Van Vicker Net worth
Through his career and his business ventures, Van Vicker has an estimated net worth of $700 000.
Although very private on his personal life, Van Vicker lives in a luxury mansion in one of Ghana's most affluent suburbs, where he also keeps a few luxury cars behind the garage doors.


Van Vicker has entertained fans for more than a decade, and with him branching out to producing and directing, his fans won't have to wait long for more entertaining stories the Nollywood actor has to tell.



Main image credit: Instagram